REM KOOLHAAS
The Rolf Schock Prize in Visual Arts 2022 Is Awarded to Rem Koolhaas
for his long commitment and unique breadth as a theoretician and polemicist on the subject of the relationship of architecture and urbanism to, and their possibilities in, a global political context. The prize is specifically awarded for Koolhaas' ability to combine a theoretical and architectural practice in which each designed building, of a high and individual quality, expresses an overarching idea in terms of urban development, culture and politics.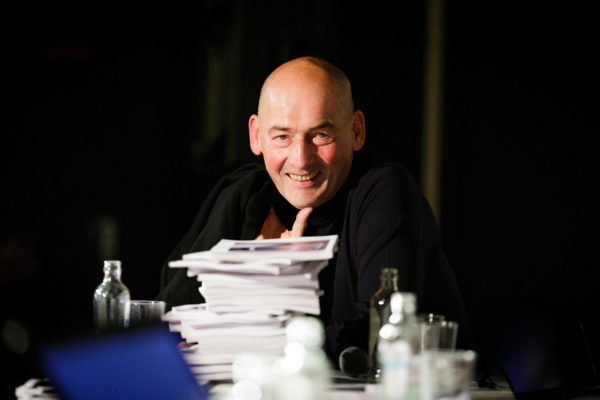 Courtesy of OMA / Photography by Fred Ernst
Rem Koolhaas, b.1944, is a Dutch architect, theoretician, polemicist and provocateur.
Since the early 1970s, he has occupied a central position in architecture and urban planning, and seemingly tirelessly produced works and writing that provide social commentary. He began his career as a journalist and script writer, which has influenced his architecture in which each project, each building, is an expression of a larger urbanistic cultural and political context.
Brought up in a Rotterdam marked by the allied bombing, Koolhaas was educated in London at the dynamic Architectural Association School of Architecture in the late 1960s and early 1970s. His studies culminated in the thesis The Voluntary Prisoners of Architecture, inspired by the Berlin Wall that he believed transformed West Berlin into an irresistible urban fantasy. His international breakthrough came with the groundbreaking study of Manhattan in the book Delirious New York, 1978, formulated as a retroactive manifesto for the then defunct city.
In 1995, in collaboration with the graphic designer Bruce Mau, Koolhas published the book S,M,L,XL, which was as controversial as it was popular. Rem Koolhaas was one of the first to draw attention to and describe the rapid urban development of the Chinese city of Shenzhen and regarded its dynamic and unpredictable condition as a source of architectural freedom.
Rem Koolhaas' most significant works include KunstHal Rotterdam, 1993, the widely appreciated Seattle Public Library from 2004, and his often criticised CCTV headquarters in Beijing, completed in 2012. In 1975, Koolhaas co-founded the Office for Metropolitan Architecture (OMA) with Madelon Vriesendorp, Elia Zenghelis and Zoe Zenghelis. 
> Read more about Rem Koolhaas